Emojify translates any text into emoji! Available on Slack, Facebook, Kik, Telegram and Twitter.
---
Emojify any message on Slack
Install Emojify on Slack to enable the /emojify command. Just type /emojify followed by a message (up to 1,000 characters) and Emojify will translate it for you!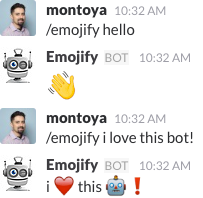 ---
---
Need a bot?
Connect with customers right where they are — on Facebook Messenger, Slack, Kik and more — with a custom chat bot for your brand or business. Let Montoya Industries solve your bot needs. Get in touch!
---